Doorstep Service and 1-year warranty
Elevate your experience with our sprayers, backed by a one-year warranty and the convenience of doorstep service, because you deserve nothing but the best!
In today's fast-paced world, convenience and peace of mind are paramount when making significant purchases. That's why we're proud to introduce our unparalleled doorstep service and an extensive one-year warranty for our products. With this dynamic duo, wwe're redefining customer satisfaction and setting new standards in the industry Each sprayer in our collection comes with a one-year guarantee, which adds even more value. It speaks to the power and durability of our goods, which goes much further than a simple warranty. We are happy to provide such a high level of security, because we believe in the durability of our sprayers.
Some components may have to be changed, while others might require a more careful adjustment by our skilled specialists when they are under warranty. To get you back online as soon as possible, our dedicated support personnel will take swift action. It may be comforting to know that assistance is always available, since the services we provide are guaranteed for 24 hours after registration.
One of the highlights of our doorstep service is the personalized guidance we provide. Our service engineers will not only address issues but also guide you on how to operate the sprayer effectively. This ensures that you're empowered with the knowledge to maximize the performance of your equipment and know exactly when it's time for servicing.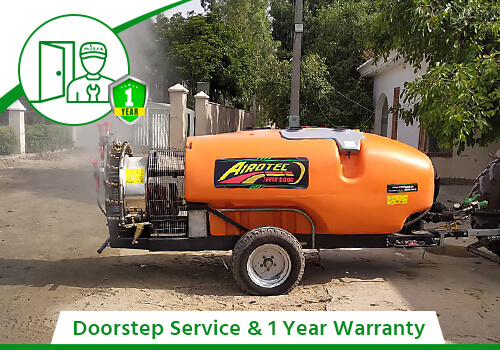 Doorstep Service and 1-year warranty
Why Choose Our Doorstep Service and One-Year Warranty?
Convenience at Your Doorstep: Say goodbye to the hassle of transportation and delays. Our expert technicians come to you, ensuring a seamless experience from start to finish.
Prompt and Reliable Support: Our team is here to help, and you can call us anytime. We're ready to answer your questions and give you expert advice, all from the convenience of your home.
Save time and effort: You don't have to miss work or change your plans. Our home service is made to be easy for you, so you can concentrate on what's important.
Quality You Can Trust: Our one-year warranty shows how much we trust our sprayers to last. You can feel confident and worry-free with this strong guarantee.
Unmatched Benefits of Doorstep Service and One-Year Warranty
Expert Guidance and Assistance: Our skilled technicians are equipped to handle any concerns or questions you may have, ensuring that you receive top-notch support.
Streamlined Service Process: We've optimized our service process to make sure you get the attention and support you need.
Investment Protection: Your purchase is safeguarded for an entire year, demonstrating our unwavering commitment to your satisfaction and product longevity.
Customer-Centric Philosophy: Our doorstep service and warranty reflect our dedication to providing an experience that is tailored to your needs and preferences.
Doorstep Service and 1-year warranty
At Mitra Sprayer, we understand the importance of providing exceptional service and ensuring the longevity of your investment. Our doorstep service and one-year warranty are a testament to our commitment to your satisfaction. Experience a new level of convenience
Mitra Provide Variety of Sprayers.
Which Sprayer Suits your needs ?
Doorstep Service and 1-year warranty
Product Explanation Videos
Product Running Videos
Doorstep Service and 1-year warranty
Grapemaster Bullet 200L With Mahindra [Bullet in Grapes]
Orangemaster Bullet With Kubota Tractor[Bullet in Orange]
Grapemaster Bullet 200L With Mahindra [Bullet in Grapes]
Mitra Grapemaster & Pomemaster Rocket
Customers Thoughts
Doorstep Service and 1-year warranty
Pomemaster in Pomegranate[Hindi]
Bullet In Grapes [Telugu]
Bullet In Grapes [Marathi]
Grapemaster Bullet in Grapes[Marathi]