Agriculture has always been a challenging endeavour, with pests and illnesses causing damage to both productivity and quality. Spraying is one of the most important components of agriculture since it protects crops against insects, weeds, and diseases. MITRA Sprayers have transformed orchard and agricultural spraying practices to make this activity more efficient, effective, and less time-consuming.
MITRA Sprayers is a well-known name in the agricultural equipment manufacturing sector, offering farmers and orchard owners unique spraying solutions. Their sprayer line is mainly built and engineered to meet the various demands of farmers and crops.
Let's take a closer look at some of their latest products and their features:
MITRA Sprayers' Latest Products
1. RACE 200L
The tractor sprayer machine "Race 200-liter" is intended for spraying and dipping applications in grapes, as well as regular spraying in pomegranates and other orchards. For horticultural crop farmers, this is the most cost-effective sprayer.  The RACE 200L is tractor and UTV-compatible, giving it a flexible and effective option. The RACE 200L has the following features:
High air output with perfect air balancing.
Low power consumption.
Compact size for easy manoeuvrability
Compatible with tractor.
Stainless steel shell assembly.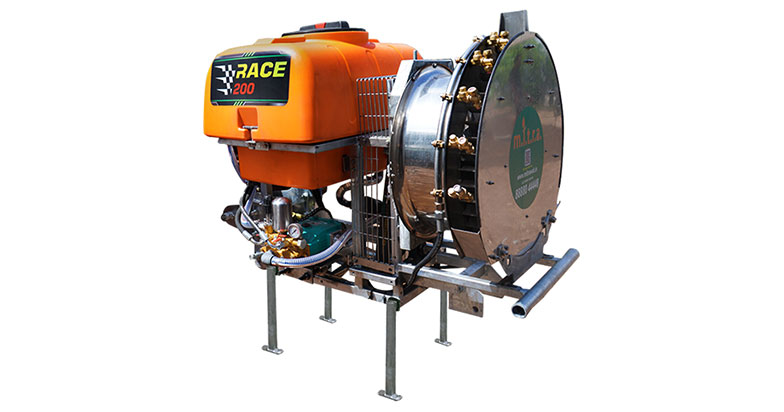 2. AiroTech 200L
The Airotec Turbo 200-liter tractor-mounted sprayer is designed for grape spraying and dipping, as well as routine spraying in pomegranate, orange, mango, and other orchards. A stainless steel air conveyor system is made up of the following components: a shell, fins, backplate, bottom baffle, inlet vanes, and deflectors. The sprayer's tiny size makes it easier to transport while covering big orchards. The following features are available on the AiroTech 200L:
Reliable powerful fan
Compact size for easy manoeuvrability
Uniform and increased coverage
Tanks are made from high-density polyethene material.
Manual 5-mode controller for controlling pressure.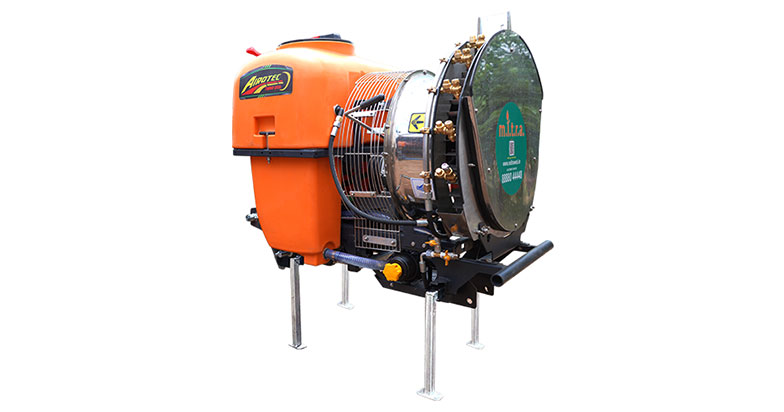 3. AiroTech Turbo Compact 600L
The AiroTech Turbo Compact 600L is appropriate for huge orchards, vineyards, and farms where large sprayers are required for optimal coverage. The sprayer's nozzle technology guarantees that droplets are uniform in size and application rate, with little spray drift. Because of its electrical management system, the operator has entire control over the sprayer, making it a very efficient and effective option.
Large 600-litre capacity yet compact.
Air Blast Technology for better spray management
Nozzle technology for minimum spray drift
Uniform Chemical Mixing for Better Results
Maximum Safety Features for Robust Operations.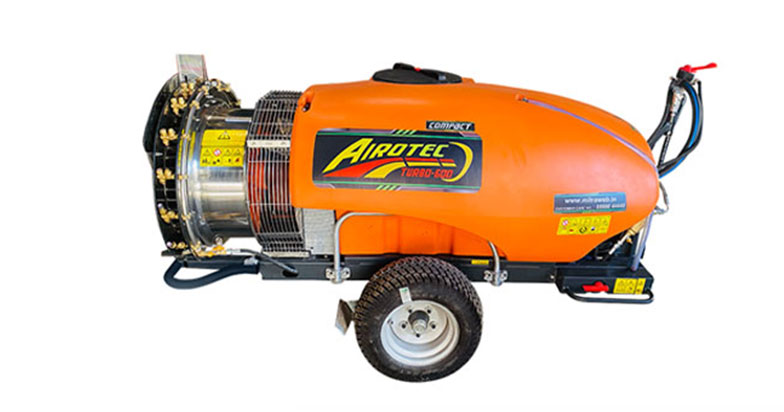 Revolutionising Agricultural Practice
MITRA Sprayers' revolutionary products and solutions have changed agricultural practices. The firm is always working to create high-quality equipment that meets farmers' concerns and contributes to sustainable agricultural practices.
Their sprayers are built to be efficient, dependable, and cost-effective for both big and small-scale agricultural businesses. Farmers and orchard owners may take advantage of the newest technology and inventive design with their latest sprayers, such as the Race 200L, AiroTech 200L, and AiroTech Turbo Compact 600L.
Finally, by integrating sophisticated technology into orchard and farm spraying practices, MITRA Sprayers has set a standard for the agricultural business. Farmers may assure efficient and exact coverage by investing in equipment, and lowering expenses while increasing crop production.